With Jiyugaoka promotion association
It moves into action as mall organization largest in the country.
It is 1963 that 12 malls are in Jiyugaoka, and the mall unites and started as mall promotion association of homogeneous organization. As the domestic largest mall organization pressing 1,300 members, we work for the making of charm of Jiyugaoka, prosperity of member store now.
Role of promotion association performs necessary common enterprise for union member and plans environmental maintenance improvement in area and is to support healthy development of business of union member in this way. In addition, we focus on contributing to increase of the public welfare in addition.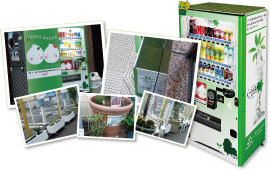 Town planning - Jiyugaoka forest plan ... with much green
If "we look at Tokyo from the sky corner of a lot of green! There was Jiyugaoka when it approached. Around <Jiyugaoka mall> that had such a dream, plan to "increase green in the town of Jiyugaoka" started. We lay emphasis on activity to plant planting that we cooperate with Tokyo Coca-Cola, and roof tree planting vending machine and bee like. If green increases in Jiyugaoka, flowers increase, and honey to gather of bee increases. Original sweets will have everybody taste product using the honey, too! Such a pleasant plan is Jiyugaoka naradehadesu.